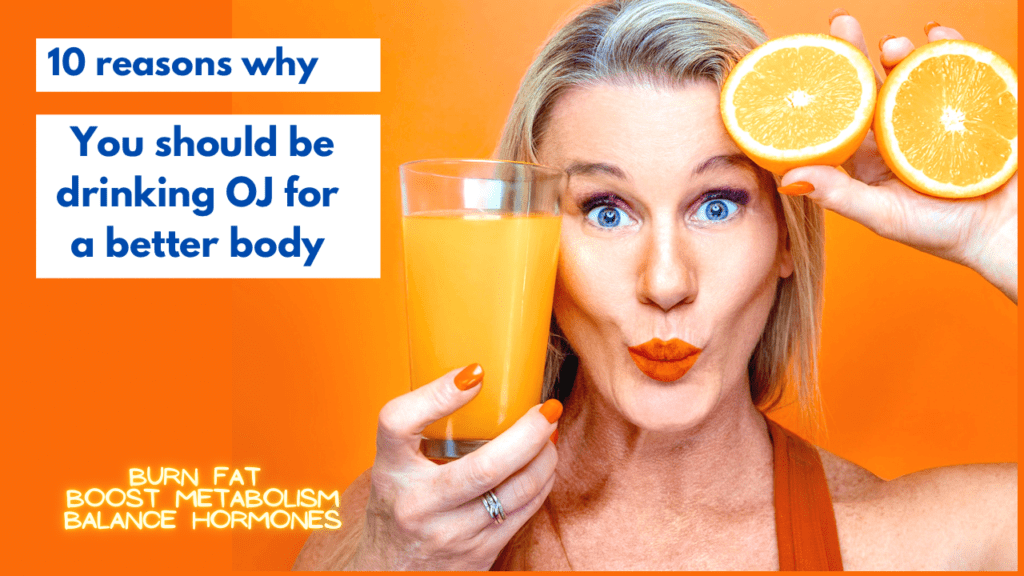 Whenever I need to boost my metabolism and lose a few kilos I drink pure, additive free OJ, several times a day.
Yet whenever I mention this to any fitness folk I get looked at like suggested to drink posion "Oh it has too much sugar and it will cause me to gain weight", "orange juice is a fattening carbohydrate" "you cant drink OJ when you want to lose weight"
Having spent years studying cellular respiration, metabolism, energy and fat loss, I can confidently say none of this true – yet somehow most people believe that a natural, additive free, glass of OJ is akin or even worse than drinking Coca Cola!
In fact the opposite is true –  orange juice will increase metabolic rate, support normalised blood sugar, lower adrenal glands, improve immune function, reduce inflammation and even help balance hormones.
I encourage anyone invested in weight loss, hormonal balance, metabolism and health to take this seriously.  If you are not drinking fresh, delicious OJ now here are 10 reasons that will change your mind.
1.INCREASE YOUR METABOLISM (faster metabolism, faster fat loss)
Cellular metabolism is the process where your body produces energy in order to function and to do this your cells need fuel.   The fuel your cells need the most – is Glucose.    And hello OJ a natural, whole food source with plenty of nourishing glucose.  
Orange juice (and ripe tropical fruit) is incredibly nourishing to your metabolism. Sugars are actually essential for thyroid gland functioning.   If your liver does not have a constant supply of glycogen it will not convert thyroid hormone T4 to T3.  It is our T3 hormone that fuels metabolism.  So orange juice is wonderful for increasing thyroid hormone production – a faster metabolism means faster, easier fat loss.
"Lack of glucose in the cell is the most important factor in decreasing Type 1 de-iodinase, thus decreasing T3 production." – Dr. Young
Dr Lita Lee, Ph.D. who is a chemist, enzyme therapist, nutritionist, author and lecturer maintains that juice as a key component to a pro-thyroid diet to boost metabolic rate.
"Fructose limits insulin secretion, but intensifies metabolism, burning Calories faster" – Dr Ray Peat PHD.
Pro-Metabolic nutrition is ALL about eating foods that will INCREASE thyroid hormone production which increases metabolism.    Pro-Metabolic nutrition burns fat off your body by increasing metabolism and thus how many calories you naturally burn without doing cardio type exercise.    Therefore in everymeal of my Pro-Metabolic meal plan program you will find a simple sugar (ripe fruit, raw honey, orange juice, milk, natural icecream, root vegetables, yoghurts, natural chocolate etc) – as simple sugars has tremendous power to increase thyroid hormone functioning
https://www.prometaboliclife.com/product/12-week-metabolic-thrive-and-burn-meal-plan/
2. OJ REDUCES BLOATING
Many people with low THYROID functioning have decreased digestive enzyme activity in the small intestine.   Digestive issues like bloating, constipation, discomfort and gas become very common.
As a disaccharide, (simple sugar) orange Juice is an easy to digest carbohydrate.  A disaccharide is a simple, single carb with only one bond to break down. Complex carbs such as monosaccharides and polysaccharides have several bonds needing digestive enzymes to break down. This means that complex carbohydrates will be more difficult to digest and will often cause bloating.   But orange juice is an easy to digest carbohydrate which means its absorbed easily into the small intestine and does not result in bloating or gas!
3. DRINKING OJ PREVENTS SUGAR CRAVINGS
Working with hundreds of clients over the years, it is evident time and time again that whenever SUGAR STORES ARE LOW, SUGAR CRAVINGS OCCUR.  Quite simply, cravings disappear as soon as the body is fed natural sugar and sugar stores are replenished. Avoiding sugar will work AGAINST you, and make cravings stronger.  Drink your OJ and goodbye sugar craving.
4. ORANGE JUICE SUPPORTS YOUR ADRENALS, THYROID AND REDUCES STRESS HORMONES
The many anti-stress nutrients in orange juice, including magnesium, vitamin C, and potassium—act as a support system for your adrenals, thyroid, and stress-response system.
When the adrenal glands are overworked due to chronic stress and lack of either enough or quality nutrition, they cannot supply your body with the hormones and nutrients needed to maintain homeostasis in everyday life.   So if you are stressed, sick or tired your adrenals need adequate potassium, magnesium, Vitamin C, B vitamins and other nutrients to function normally.    And OJ deliver a whopping dose of all of these in one fresh glass.
Awesome Pro-Metabolic tip:  If you really want to boost your OJ's thyroid-and-adrenal-supporting superpowers, add a few shakes of sea salt to your cup. Salt down-regulates stress hormones and supports both of these glands immensely. Salt is especially important in times of stress or if metabolism is slow.  Quite simply Salt helps decrease cortisol and supports metabolism.
5. SO YOU ENJOY ALCOHOL… WELL YOU'LL LOVE THIS
If you enjoy the odd glass of vodka or sparkly….then bring on the OJ
According to Dr. Ray Peat, PhD, drinking alcohol with juices rich in fructose like orange juice, is significantly better for you than drinking alcohol alone. Dr Peat's findings are a direct result of the way that fructose helps to stimulate the detoxification of the ethyl alcohol from the body. –Peat, Ray, Ph.D. Sugar Issues. Retrieved 15 May 2015 from http://raypeat.com/articles/articles/sugar-issues.shtm
6. OJ REDUCES INHIBITS ESTROGEN
We know excess estrogen is linked to cellulite, fat storage in hips, butt and thighs and a host of other insidious conditions.   As a coach anything that is nutritious, assists with hormonal balance and reduces estrogen gets a tick from me.
Are your hormones out of kilter? 
Do you hold in estrogen dominant areas such as your hips, butts and thighs…. Then you will love Narginenin.    
Naringenin (Nar) is a component of fruits and vegetables, (found in particularly high concentrations in citrus fruits) and has astonishing healthful benefits, such as reducing the incidence of hormone related cancers, reducing adipose (fat) tissue, increasing metabolism,  preventing the development of osteoporosis and cardiovascular diseases, and Nar is considered SIGNIFICANTLY anti estrogenic, decoupling estrogen receptors and inhibiting estrogen signalling
https://academic.oup.com/endo/article/149/5/2567/2455156
'Protective Effects of Citrus Flavanoid Naringenin' by Rob Turner of Functional Performance Systems – http://www.functionalps.com/blog/2013/11/19/protective-effects-of-citrus-flavanoid-naringenin/
https://nutritionandmetabolism.biomedcentral.com/articles/10.1186/1743-7075-12-1
https://www.researchgate.net/publication/5613014_The_Nutritional_Flavanone_Naringenin_Triggers_Antiestrogenic_Effects_by_Regulating_Estrogen_Recept
And this is why my hormonal balancing meal plan programs all include several glasses of OJ a day for its amazing benefits to reduce excess estrogen
https://www.prometaboliclife.com/comp-coaching/
7. ORANGE JUICE REDUCES INFLAMMATION
This is a fascinating study…
Dr. Dandona is a professor at the State University of New York who heads the diabetic-endocrinology Centre.  A few years ago he studied how the body responds to processed junk food – and let's be honest, in this world of processed food who doesn't down the occasional (or more than occasional) not so healthy food.
Volunteers of healthy, normal weight subjects were provided with either a breakfast from a fast food outlet consisting of an egg sandwich with cheese and ham, a sausage muffin and two hash browns OR the same breakfast but this time WITH a glass of orange juice.    They then took a blood sample and measured metabolic markers.
SO….WHAT DID DR DANDONA OBSERVE?
Those that had the fast food breakfast WITHOUT the OJ, – their levels of inflammation and endotoxins ***(excess estrogen) shot up literally within minutes, their metabolic rate slowed down and their blood sugars levels set the scene for storage of belly fat.
BUT when Orange Juice was consumed at the same time, the OJ STOPPED THE PROCESS COLD IN IT'S TRACKS.  THE ORANGE JUICE ACTED AS A SHIELD TO PROTECT METABOLISM and INFLAMMATION.  "It just switched off the whole inflammatory damn thing," Dr. Dandona quotes.
***Endotoxins are toxic molecules found in the outer cell wall of certain bacteria and increase inflammation and estrogen.  When endotoxin levels rise, our immune system perceives a threat and responds with inflammation and allergic responses.
Study after study showS that when orange juice was added to the breakfast  it DOES NOT lead to inflammation OR the resulting weight gain.
 A breakthrough was discovered with this research: https://academic.oup.com/ajcn/article/91/4/940/4597353
THIS IS SIGNIFICANT because Inflammation is linked to many insidious conditions affecting health.  Inflammation reduces metabolic rate and increases fat and weight gain.
Some food choices (such as foods high in Polyunsaturated Fatty Acids) directly cause inflammation in our cells.  Whilst other foods (pro-metabolic foods) do the opposite and reduce inflammation and protect cells.  Nutrition science now has evidence that Orange Juice does just that – reduce inflammatory responses, protects cells and increases metabolic rate.
https://academic.oup.com/ajcn/article/91/4/940/4597353
https://www.ncbi.nlm.nih.gov/pubmed/17384340
https://www.ncbi.nlm.nih.gov/pubmed/17384340
As inflammation is the number one factor towards obesity and weight gain, this is yet another reason why Orange Juice is a staple component to pro-metabolic nutrition.   It is not about losing fat at all costs.  It is also about improving health, reducing inflammation and balancing hormones.
https://www.prometaboliclife.com/meal-plans/
"Fruit juices are high in salicylates so it's like drinking organic aspirin (very anti-inflammatory)."  Lee, Lita, Ph.D. To Your Health Newsletter: January 2011. Retrieved 15 May 2015 from http://www.litalee.com/shopexd.asp?id=471
8. OJ IS EASY TO DIGEST AND QUICK TO PREPARE
Orange juice is an easy to digest sugar. If you experience gut or intestinal issues, pulp free orange juice is good energy option due to its ease in digestion and absorption.
And let's be honest, life gets busy and food prep does take up time.  Juice is a really easy option on the go.  Simply add gelatin or an egg for protein and whollah you have an evenly balanced meal in a glass. .
9. ORANGE JUICE BOOSTS YOUR IMMUNE and NUTRIENTS
To put it simply, Orange Juice is loaded in vitamin C, magnesium, folate, potassium and many other essential nutrients needed for a thriving immune system and as an antioxidant.  I never understand why so many choose to pop Vitamin C pills when one fresh glass contains 207% of your daily recommended amount of Vit C.
A 2015 study by the Critical Reviews in Food Science and Nutrition found that
"Citrus juices are excellent sources of vitamin C and contribute other key nutrients such as potassium, folate and magnesium.  Orange juice intake has been associated with better diet quality in children and adults. OJ intake has not been associated with adverse effects on weight or other body measures in observational studies in children and adults."   – Critical Review Food Science & Nutrition. 2015 Apr 1:0. 100% Citrus Juice: Nutritional Contribution, Dietary Benefits, and Association with Anthropometric Measures.Rampersaud GC1, Valim MF.
Speaking of antioxidants, ever wonder why vitamin C is supposed to be so supportive to your immune system? It's because it actually increases your white blood cell count—as long as it's coming from a whole food source, with the entire C complex intact. Vitamin C is one of the most major and important antioxidants your body needs for optimal health.
FRESH ORANGE JUICE IS A GOOD SOURCE OF MAGNESIUM AND OTHER MINERALS AND VITAMINS
Orange juice is a surprising mineral powerhouse. One quart of orange juice contains over 100 milligrams of magnesium! That's a significant portion of the amount of magnesium you should be getting every day.
Worried about all that sugar you'd be drinking, though? Well, the magnesium that comes in your OJ is actually essential for blood sugar regulation, too, and keeps blood glucose levels normalized. As well as potassium, another key nutrient found plentifully in orange juice. Potassium is involved in regulating both blood sugar and insulin levels. Potassium works by getting sugar into the cell, which regulates cellular metabolism and makes use of that sugar by using it as fuel.
10. ORANGE JUICE IS NECESSARY FOR ANTI-AGING COLLAGEN BOOST
So I hope we are all drinking gelatin-rich bone broth or mixing gelatin in our OJ or yoghurt by now. But,  did you know your body can't actually assimilate and produce collagen without vitamin C?
All the gelatin in the world won't help improve your skins elasticity and reduce fine lines without adequate vitamin C. The antioxidant vitamin is essential for collagen production. A Vit C supplement wont do the trick either, because unless it's a whole-food form, it won't contain the full vitamin C complex.  Orange juice has all the vitamin C you need to get the beauty and health benefits from collagen.  Getting vitamin C from food sources is ideal, and orange juice has plenty of it.
 THE BENEFITS OF DRINKING QUALITY ORANGE JUICE REALLY ARE TOO GREAT TO IGNORE.
In my opinion, it is just as essential as protein and this is exactly why it is included for every one of my clients meal plans or my downloadable meal plan programs.     I so I also encourage you to enjoy the freshness and phenomenal benefits found in Orange Juice on a daily basis.
Send me a message if you have any questions that I may be able to help with  .  Your coach Cheryl xxx