Cheryl specialises in figure, bodybuilding, sports model and bikini divisions both domestically in Australia and internationally throughout the world.
Cheryl is an experienced competition coach who walks the talk (read Cheryl's Story). She has been competing for 17 years, she has a PRO card in the Figure Division of both NABBA and WFF and won the WFF Ms Universe in 2014. She has travelled the world competing at both world and universe championships and loves to share her experiences and coach athletes to be their best and healthiest they have ever achieved.
As a coach and athletes herself she is able to share her learning experiences and research and ensure her athletes have a balanced nutritional strategy, the perfect training program and develop a strong positive mindset. She is absolutely committed to developing each and every one of her athletes to achieve their greatest genetic potential and she will be with you to, support, encourage, teach, mentor and educate every step of the way.
Whether you are a first-time beginner or a seasoned professional Cheryl will give your 100%. She only ever coaches a limited number of athletes per season to enable her the time to give each individual athlete the attention and support they need.
All competition athletes are coached using Cheryl's Pro-Metabolic Nutritional framework to ensure health, metabolism and balanced hormones. YES, it is possible to get lean eating delicious food, and no she will not drastically cut your carbs or get you to do hours of cardio to get ripped!
Pro-Metabolic Nutrition is a unique nutrition system developed by Cheryl that achieves fantastic balanced, effortless results.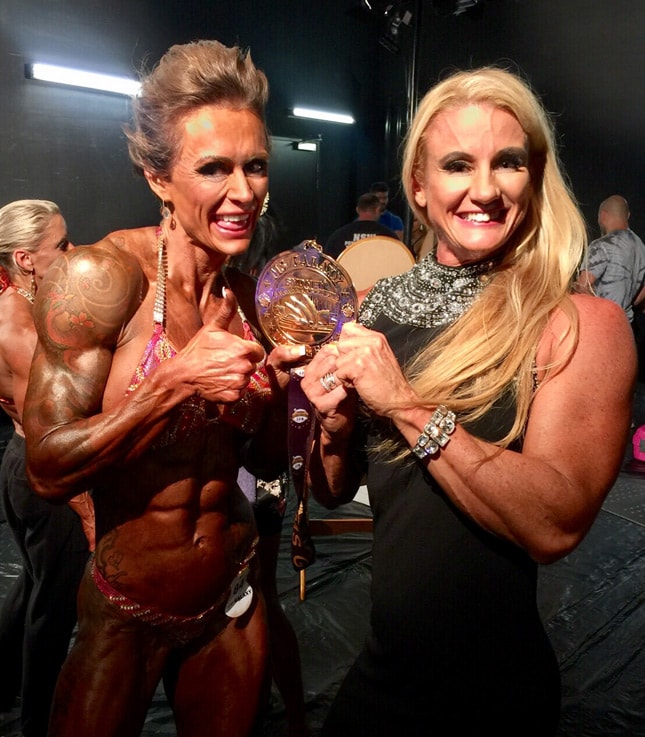 Cheryl is an accredited domestic and international judge and head judges, MC and show promoters.
Due to her experience and position in the fitness and bodybuilding industry, she is involved with spearheading the direction of modelling and bodybuilding and can therefore impart cutting edge information to athletes about the latest trends, looks and developments.
Competition preparation is both an art and a science. There are many factors that must be constantly considered when developing a plan to produce a high quality competitor, ranging from nutrition, training, cardio, mindset, supplementation and lifestyle.
Cheryl has walked the walk and she talks the talk. She knows what you are going through every step of the way. Experience and knowledge is fundamental with coaching.
Each coaching program is commenced after an initial face-to-face (or video link) consultation where your together each athlete's expectation and goals are thoroughly defined. During this first one hour consult, Cheryl will take the time to understand your athlete's health, stress, sleep, goals, support network, digestion, current nutrition, training, previous comp experiences and lifestyle. This enables each and every plan to be personalised to get you amazing results. No two plans are ever the same.
It can be very common during competition prep to see athletes plateau in their fat loss, stall with their muscle gain, or not achieve the best results they can. This is where Cheryl's experience, knowledge and years of research will help. After carefully considering many varied factors, she will intrinsically know what to adjust to ensure you continue to get results in a healthy, sustainable manner.
She uses a number of strategies ranging from calorie cycling, re-feed days, specific fat loss cardio regimes, pro-metabolic keto nutrition plans, super metabolic shred days and specific supplementation cycles if an extra edge is needed to get you stage-ready.
THE PROMETABOLIC LIFE COMP COACHING MODEL
Coaching packages are provided to suit every athlete's budget, and you can choose how much support, education, mentoring and face to face contact you want and you can afford.
The competition coaching is structured around an online affordable fortnightly and/or weekly submission of progress sheets, photos and other data. Cheryl then reviews your results, updates your plan and emails your changes within 48hrs.
Regular reviews and check-ins provide greater accountability, a more economical approach, more support and regular adjustments.
From 6-10 weeks out of competition, you will be required to submit your progress reviews and check-ins with Cheryl every week. Outside of that, the reviews are conducted fortnightly.
As a show gets closer, every missed week with a plateau or poor result can often put an athlete behind schedule. So this ensures athletes do not fall behind with their preps and avoids extreme measures needed to dial in if behind.
INITIAL CONSULTATION
This is compulsory to begin a comp prep with Cheryl. The Initial consultation is a 1-hour face to face or video link with Cheryl and after this she will create your starting nutrition and training plan.
- $420 -
ONLINE REVIEWS
- Fortnightly or Weekly -
Online Reviews occur weekly when 6-10 weeks out from a show and fortnightly for the remainder of the time. You will be invoiced three reviews ahead of time. So upon your first review, you will receive a PayPal invoice for the next 3 consults and so on.
- $50 per week -
COACHING CALLS
- Face-to-Face - Video Consultation -
It is highly recommended to schedule regular coaching calls / sessions with your coach. This enables Cheryl to stay connected with you, how you are going and to get to know you better. This also is a fantastic opportunity to be mentored and to learn about Pro-Metabolic Nutrition, Metabolism, Hormonal issues etc. For those who undertake coaching calls regularly Cheryl will prepare a series of education, (nutrition and mindset) modules to help develop your knowledge base as well as your mindset.
Coaching calls are not compulsory if you are in need of an economical prep but will provide a more thorough, supportive and educational experience.
These sessions are charged in addition to the online reviews, which still continue as scheduled. Athletes will be invoiced for this service prior to the scheduled appointment.
PEAK WEEK
- In Addition to Review -
Peak week online review and plans – includes water loading, depletion, carb/fat load protocols, and comp day plans.
- $80 -
POSING SESSIONS
One-on-one POSING session either by video link or face-to-face at South Brisbane.
Frequently Asked Questions
All athletes are prepped using the ProMetabolic Life nutritional framework which is aimed at increasing thyroid gland functioning, increasing metabolic rate, balancing hormones and ensuring fat burning is stress-free and well supported. This nutritional framework is based upon the work of a leading American endocrinologist and hormone researcher, Dr. Raymond Peat, combined with decades of coaching and competing experience.
This approach is designed to reduce cortisol, keep estrogen balanced, ensure active thyroid functioning, stabilize insulin levels, reduce inflammation and ensure a fast metabolism… all with spectacular results!!!
Cheryl has found time and time again that the healthier my athletes are, the faster their metabolism, the easier it is to achieve competition success (stress-free fat loss, muscle gain, and optimal health and energy).
Be prepared to relearn what you thought was fact. Be open-minded. You will get lean on a nutrition plan that is delicious, healthy, nourishing, packed full of vitamins and… above all…. will not leave you with cravings, rebound weight gain, a damaged metabolism or hormonal imbalance.
After assessing your physique, Cheryl will provide you with a specialised training program tailored to your goals and your needs. She will change your training throughout your prep as necessary.
Cheryl will use nutrition to get you lean – and this is one of the wonders of Pro-Metabolic nutrition and your training to chisel your body. It is a primary goal to get you stage-ready with minimal to no cardio. Cardio will downregulate metabolic rate, increase cortisol and stress hormones as well as increasing excess estrogen. These are all hormonal states you want to avoid if you want a stress free comp prep with effortless fat loss.
ProMetabolic Life comp prep nutrition plans are designed around:
- natural sugars from tropical fruit, orange juice and raw honey,
- saturated fats from coconut oil, eggs and organic butter,
- complex carbs (starches) from potatoes, sourdough and rice,
- salt, dairy from milk, yoghurt, cottage cheese, hard cheeses and
- good quality protein from eggs, seafood, gelatin and grass-fed beef.
First of all this all depends upon your starting conditioning and the condition of your metabolism and health.
For best results, Cheryl prefers to work with an athlete offseason to increase metabolism, increase the amount of calories consumed (without putting on weight) and ensure a balanced hormonal profile. Though without doubt the longer I can work with an athlete, the better the outcome – as this gives me a longer period of time to optimize metabolism. Fat loss favours a fast metabolism.
Ideally, Cheryl would love to have a minimum of 24 weeks with an athlete, but is also well aware that people often don't start to search for a coach until they are closer to a show. If you are closer to show date, send Cheryl an email and she can talk with you about where you are at.
Cheryl only takes on a limited number of competition athletes each season to ensure she can provide a thorough and supportive, educative and memorable experience. She gives priority to responding to her comp athletes on messenger generally within 24 hrs (or of course earlier) except for Sundays.
After your initial consultation you will complete a detailed progress sheet and quarter-turn photos and you results are submitted either fortnightly or weekly. Cheryl will do an online review of your progress, and make the necessary amendments to your training and nutrition for the next period.
From experience weekly reviews and adjustments deliver more beneficial results as each athlete is held accountable more regularly and changes to training and nutrition can be made dynamically without lag or delay.
Depending on the budget and needs of the athletes, face to face coaching calls/consults can be scheduled regularly or just even when requested by each athlete.