Blair and I have been international athletes and coaches for well over 20 years. I will be the first to admit that I have tried so many approaches…. almost all of them!!! I have also made a huge number of mistakes when it comes to exercise, health and losing body fat.
Prior to discovering the research of endocrinologist, Dr. Ray Peat, my nutrition consisted of an extremely boring fitness diet and I did a MASSIVE amount of cardio.  Year after year it got harder and harder to lose body fat.  Little did I know what harm I was doing to my metabolism and precious hormones
LOSING WEIGHT QUICKLY WITH CARDIO IS DAMAGING TO YOUR HEALTH.
I know we all want to lose weight quickly but doing loads of cardio is the worst way as it generally results in a damaged thyroid gland functioning, long term weight gain, fatigue and hormonal issues.
If your metabolism is slow, killing yourself by doing cardio is the worst thing for your heath.  
AT PROCOMP, WE GET OUR athletes AND OUR CLIENTS INTO GREAT CONDITION BY EXCERCISING "SMARTER" …. NOT. "HARDER" ….and this often involves NO CARDIO at all.
After I had studied the work of endocrinologists I then truly understood the science behind exercise and how it intricately affects the thyroid gland, hormonal system and the relationship with weight loss.
EXHAUSTING, EXCESSIVE CARDIO
Adds considerable stress to your body.   If your body is already stressed from low calorie/carb eating, or from overtraining, or not enough sleep, inflammation, toxic relationships, and unpredictable finances…. then additional cardio adds additional stress onto an already stressed body.
Damages metabolism.
Suppresses thyroid gland functioning.
 Wastes muscle tissue.
Increases bone loss.
Increases inflammation.
Suppresses the immune system.
This may come as a surprise but ALL EXCERSIE ADDS STRESS to your body….and it does not discriminate.
All stress also increases cortisol.  Cortisol adds body fat, reduces thyroid gland functioning and ultimately slows the metabolism.
HOW DID WE GET SO CONFUSED???
WHY DOESN'T CARDIO WORK LIKE WE THOUGHT IT DID???
It is understood that the body "burns more calories" when exercising. Fuel is needed to provide the energy for excercise exercising.
If your metabolism is hot and firing hot, hormones are in perfect balance, or you are a young man, then large quantities of fuel can be stored in your liver and in your muscles.  This assists tolerating the stress of exercise.
Yet, most people who are struggling with a sluggish metabolism, thyroid condition sufferers or those who put on weight easily are unable to properly store fuel.  This is exactly the reason why these good folk are often tired, fatigued and get poor results from their training. 
FASTED CARDIO – AT PROCOMP WE SAY, AN ABSOLUTELY NO WAY.
When exercising with a low fuel supply as a result of not enough carbs to supply energy, the body does not have any glycogen reserved and starts releasing massive amounts of cortisol, the stress hormones.
Cortisol downregulating thyroid hormone production that lowers metabolism and slows all your bodily systems down. The release of cortisol is designed to save enough glycogen stores to ensure that the body is functional.  This also slows down fat loss.  
Cardio in a fasted state is a common recommendation in the fitness industry.  The effects of exercising without any carbs or glycogen directly increases cortisol and reduces thyroid gland functioning and metabolism.  As a direct result, the body slows down the rate of burning calories that results in inevitable weight gain.  I personally think is better to not even considering exercise at all than to exercise in a fasted state.
Exercise forces your body to use fuel.  When not eating enough or in a fasted state, it is going to burn fuel very, very slowly, if at all.  The body at this time is in survival mechanism
THE SOLUTION.
If you have a slow metabolism and you want to lose weight without damaging your metabolism even further, then it is imperative that you stop doing things that add stress to your body. A much better option is to maximize your metabolic rate. 
It is important to stop the stress response that exercise creates.  This starts with nutrition as it provides the body with the nutrients it needs to actually do the exercise performed.  Although imperative before and after working out, it is also essential to receive the right balance of protein, carbs and fats throughout the entire day.
The ProComp Pro-Metabolic meal plans are perfectly designed with this in mind as each plan has the perfect ratio of carbs, protein and fats.
THE ULTIMATE GOAL IS TO LOSE FAT AND GAIN MUSCLE HEALTHILY.
When your exercise regime focuses entirety on burning fat such as bootcamp and spin classes then I'm here to tell you that you are doing it all wrong. The amount of muscle that you have makes all the difference. Muscle will give your body a great shape, provide a tight, toned, chiseled and athletic body. Muscle will also help you lose the flabby bits.
As an additional benefit, the tissue that makes up muscle is also far denser than fat.  Muscle takes up less room in the body. More muscle and less fat will provide a leaner look. Weight can also become heavier and that is why we do not rely on the scales.
Take a look at this image.  5lbs of fat on top vs 5lb of muscle on the bottom.
EVEN MORE BENEFITS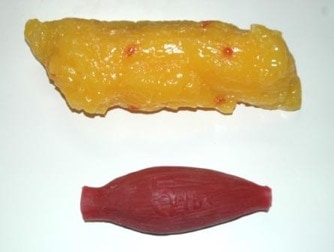 .Muscle tissue is far more metabolically active than fat tissue. It gets even better……during rest muscles will mainly use fat for energy. In summary, the more muscle you have, the more fat you burn at rest……all day long.    Yip yip yi yah!!!!
A NOTE FOR WOMEN
A woman's hormonal profile is different to that of a men. Women have more estrogen and less testosterone. A woman is unlikely to bulk up and look like a man.  A woman will create a more toned, lean and tight figure.   
WHAT IS THE WRONG EXERCISE AND WHY?
Any type of exercise that leaves you out of breath for an extended period of time or that leaves you feeling exhausted and fatigued.   Unfortunately, excessive cardio will burn both muscle and fat tissue.  This simply makes a smaller and softer version of Yourself…..known as skinny fat.
What most fail to understand is that cardio exercise is just as efficient at "burning" or breaking down muscle tissue as it is fat tissue.  You certainly lose weight burning muscle and it certainly won't help you look any better.  Muscle is more metabolically active and when lost, the ability to burn more fat decreases.
This has a negative effect on your thyroid gland heath and metabolism because when your body breaks down muscle tissue, it uses the stress hormone cortisol.
Excess cortisol suppresses thyroid functioning, slows the metabolism and reduces fat burning.  Cortisol further suppresses your thyroid gland in many ways.  These include:
Inhibiting the liver from converting inactive T4 thyroid hormone into the active T3 that the body needs.
Increasing estrogen production whilst also increasing the fat storage enzyme.
When the body is not currently as efficient as it can be, we do not want any further production of anymore cortisol.  In the long run, you are likely to put ON fat as muscle is decreasing.
WHAT EXERCISE IS BEST FOR BURNING FAT AND IMPROVING THYROID GLAND AND HORMONAL HEALTH?
When working with our ProComp athletes, we focus on training that safely promote fat loss, increases metabolic rate and builds muscle without stressing the body.  Quite, simply…. weight / resistance training. 
We have put together 24 awesome training programs ranging from 2/3 days a week beginner to 5 days advanced  for only $9.95.
When you weight train properly you can avoid the thyroid suppressing effect of cardio, whist increasing lean muscle and improving your body shape.  It really is a no brainer!!!!
AN IMPORTANT NOTE – THIS IS NOT JUST FOR ATHLETES.   Any resistance training can help stimulate the growth of muscle tissue to look leaner and toner.
Do not hesitate to contact us if you have any questions.