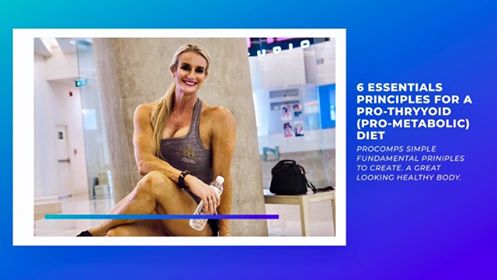 Nutrition plays a significant role in metabolic rate, hormonal balance, fat loss, energy, health, sleep and so much more. In order to create a great looking, healthy and a balanced body, every single one of ProComp's nutrition plans focus on the following 6 key fundamental principles:
1. CARBOHYDRATES ARE ABSOLUTELY ESSENTIAL
Carbohydrates and specifically simple sugars like orange juice, ripe tropical fruit and raw honey helps to increase metabolism and health. They also have a very important role with weight loss. Low carbohydrate diets are not balanced and subsequently will slow fat burning and reduce thyroid hormone conversion.
Attached are just a few research studies for those avid scientists amongst us that demonstrates that carbohydrates in a diet alone have A LOT to do with thyroid gland health.
http://raypeat.com/articles/articles/sugar-issues.shtml
Dietary-induced alterations in thyroid hormone metabolism during overnutrition.
http://www.ncbi.nlm.nih.gov/pmc/articles/PMC371281/
"It is apparent from these studies that the caloric content as well as the composition of the diet, specifically, the carbohydrate content, can be important factors in regulating the peripheral metabolism of thyroid hormones."
Isocaloric carbohydrate deprivation induces protein catabolism despite a low T3-syndrome in healthy men.
http://www.ncbi.nlm.nih.gov/pubmed/11167929
"In contrast to the high and intermediate carbohydrate diets, carbohydrate deprivation decreased plasma T3 values…, whereas reverse T3, T3 uptake and free T4 levels increased simultaneously"
Hormonal and metabolic changes induced by an isocaloric isoproteinic ketogenic diet in healthy subjects.
http://www.ncbi.nlm.nih.gov/pubmed/6761185
"A significant fall in triiodothyronine [T3] and rise in reverse triiodothyronine [rT3] were observed, while thyroxine [T4] levels remained unchanged."
And carbohydrates are not the only part of your diet that affects your thyroid function… not by a long shot.
2. BALANCE MACRONUTRIENTS
The composition of how nutrition is combined and balanced has a significant impact on blood sugar levels. This then directly impacts cortisol release and thyroid gland health. To create a great looking, healthy body, balancing macros is imperative.
Every meal should have a balance of protein, carbs and fats. They all play a role in metabolism and ensuring essential nutrients are consumed
3. AVOID THYROID GLAND SUPPRESSIVE FOOD….and particularly PUFAs!!!!
PUFAs are Poly-Unsaturated Fatty Acids that are liquid oils. These include sunflower oil, corn oil, cottonseed oil, canola oil, flaxseed oil, hemp seed oil, soybean oil, fish oil (omega 3's), peanut oil, nuts and seeds. Yes……shock horror…. this includes almonds, cashews and walnuts!!!
The occurrence of PUFAs can also be found in animal protein fed any of these grains. These animals are what they eat……so animals fed on PUFAs…. you guessed it……contain PUFAs!!!
Polyunsaturated fatty acids are chemically incomplete as they lack hydrogen atoms. This results in the chain becoming unstable and prone to degradation, oxidation and free radicals. This is bad…really bad…
Why are polyunsaturated fats bad for your health?
PUFA's suppress thyroid gland and hormone production.
A suppressed thyroid hormone production down-regulates metabolism. This results in slower fat burning, decreased protein synthesis and fat storage.
Consuming PUFA in excess or concentrated form also results in high levels of inflammation in the body.
The bulk of "age spots" on the skin are produced by the decomposition of the polyunsaturated fats.
Unlike saturated fats, PUFA's are yeast stimulants and are harmful to gut bacteria/candida.
Oxidized PUFA's lead to free radical damage. This then leads to premature aging and degenerative conditions.
Containing both Omega 3 and Omega 6 fatty acids, PUFA are linked to atherosclerosis or hardening of the arteries.
PUFA interferes with insulin sensitivity.
"
Even brief exposures to polyunsaturated fatty acids can damage the insulin-secreting cells of the pancreas, and the mitochondria in which oxidative energy production takes place. Prolonged exposure causes progressive damage. Acutely, the free polyunsaturated fatty acids cause capillary permeability to increase, and this can be detected at the beginning of "insulin resistance" or "diabetes." After chronic exposure, the leakiness increases and albumin occurs in the urine, as proteins leak out of the blood vessels. The retina and brain and other organs are damaged by the leaking capillaries." – Ray Peat PhD

RAY PEAT PHD
http://raypeat.com/articles/articles/unsaturated-oils.shtm
4. CONSUME ADEQUATE AMOUNTS OF QUALITY PROTEIN.
Both your liver and your thyroid gland requires high quality protein every day just to function. The baseline is 70-100g. Not all protein is the same, however. There are thyroid gland supportive proteins and thyroid gland suppressing proteins. This is where so many fitness enthusiasts make mistakes by overconsuming proteins rich in thyroid suppressive amino acids such as tryptophan or cysteine. Muscle meat has a suppressing effect on the thyroid gland.
http://raypeat.com/articles/articles/meat-physiology-stress.shtml
Thyroid peroxidase activity is inhibited by amino acids.
http://www.ncbi.nlm.nih.gov/pubmed/10719389
"some amino acids (cysteine, tryptophan and methionine, 50 microM each) also inhibited the TPO iodide oxidation reaction completely" There are proteins rich in thyroid healing amino acids such as glycine.
Quite simply, over-eating the wrong proteins and under-eating the right proteins can also prevent fat loss and down regulate metabolism. ProComp recommends thyroid friendly protein sources such as shellfish, seafood, gelatin, quality dairy and eggs
5. BALANCE MICRONUTRIENTS
All of ProComp's Pro-Metabolic meal plans are designed to have balanced macronutrient and we have also ensured that all of the micronutrients are properly balanced for optimal metabolism and health.
Calcium ratio is balanced with phosphorus ratio. This is essential for reducing parathyroid stress hormones.
Copper is balanced with zinc.
In our profession we see many fitness enthusiasts experience sluggish metabolisms. They experience difficulty with fat loss and are often deficient in dairy products that contain calcium. They then eat a lot of foods high in phosphorus like chicken breast that is described as muscle meat
6. MEAL TIMING
When thyroid hormone conversion slows down, the liver then loses its ability to store glycogen. This often means the body is unable to regulate blood sugar well. The timing of meals also has a huge impact on thyroid gland efficiency.
Meal timing may result in the body suppressing thyroid gland functioning. The body then overproduces cortisol and adrenalin to keep blood sugar levels stable. This is not a good thing for fat loss and is a direct path to fat gain.
When metabolism is slow, or is hypothyroid, the liver is not going to regulate blood sugar well. It is recommended that steps are taken to take control and balance the timing of meals until such time as liver function improves. This is one of the reasons that ProComp meal plans encourage 3 meals and 3 snacks eaten regularly throughout the day…. a total of 6 meals per day.
To read more about ProComp's Pro-Metabolic 6, 8- or 12-week meal plan program, feel free to click the link below. We would love to connect with you so do not hesitate to hit up our website or send us a PM or email!!!
I have been in the fitness industry for over 20...
 Here I outline 10 nutritional fundamentals to get you started...
Become A Member
Join my exclusive membership program today and be coached by me