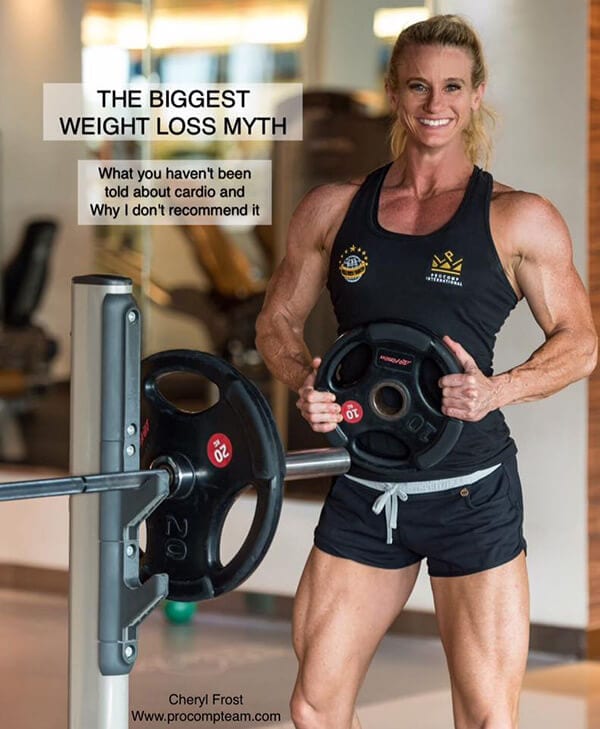 WHAT YOU HAVEN'T BEEN TOLD ABOUT CARDIO AND WHY I DO NOT RECOMMEND IT.
I have spent years and years doing far too many hours of cardio just to stay in shape. Whilst I looked great, I was far from healthy. I was exhausted, constantly tired, I had trouble sleeping, I suffered from bloating, I felt moody, flat and my cycle was irregular. To make matters worse, I needed to do more and more as the years past to stay lean. Just Crazy!
I no longer do cardio and in its place I weight train and stay lean because I'm healthy and have developed a fast metabolism.
MORE CARDIO IS NOT THE ANSWER TO WEIGHT LOSS.
In the long run, excessive exercise regimes can slow metabolism that slows down fat burning. Yet sadly, common fitness advice is to do more cardio to burn more fat.
EXHAUSTING EXCESSIVE EXERCISE IS A STRESS ON THE BODY.
This is OK when it is fuelled by proper nutrition and rest, but not if doing cardio in a fasted state or eating in a calorie deficit. Flogging oneself whilst eating a low carb, low calorie diet is a recipe for metabolic damage.
WHY?
During cardio blood sugar levels drop and cortisol, adrenalin, estrogen and endotoxins rise. These hormones are antagonists to T3 and cause thyroid hormone to drop.
Doing cardio until exhaustion, or without adequate fuel, leads to the down-regulation of thyroid functioning.
STRESSING THE BODY IS NOT THE ANSWER.
Traditional fitness and weight loss programs will often intentionally stress the body with exhausting and intense cardio in order to force weight loss. This is never a good idea for healthy hormones or metabolism. While it may initially work, it will ultimately cause a deficiency in T3. T3 controls metabolic rate. Metabolic rate is the rate of fat burning and energy production. The ProComp approach is to support fat loss and not force fat loss.
"Generally, a person's body will give them the feedback that it's time to put traditional exercise methods on hold for a time. Decreased tolerance to stress or exercise, slowed recovery, accelerated time to fatigue, chronic aches, sleep problems, and poor digestion are endocrine warnings indicating that changes need to be made." Rob Turner. Functioning Performance Systems.
Resistance exercise is by far the superior way to train. Muscle increases resting metabolic rate and muscle consumes mainly fat when it is in a resting state.
SUGGESTIONS.
1. Focus on weight training with a specific focus on compound movements like squat, bench press, military press, lunge and rows.
2. Keep sets under 40 seconds to prevent the accumulation of too much lactate.
3. Do not train on an empty stomach.
4. Once fatigue or strength drops during training, it's time to listen to the body's signals and stop.
5. Enjoy walking…. especially outdoors…but not for more than one hour at a time and not on an empty stomach.
6. HIIT can be effective for short bursts of 20 minutes, but only if nutritionally supported.
7. Eat protein and carbs within one hour of training. Carbohydrates will spare muscle by sparing the protein from being used to make glucose. Carbohydrates and protein also help recovery and performance.
Custom Nutrition Plans. www.procompteam.com/custom-nutrition/

Online Meal Plans. www.procompteam.com/meal-plans/
ProComp Coaching.www.procompteam.com/coaching/
ONE-OFF PERSONALISED NUTRITION PLANS.
PM me or email me at info@prometaboliclife.com for more details.
PRO-METABOLIC MEAL PLANS.
https://www.prometaboliclife.com/p…/pro-metabolic-nutrition-plans
PROCOMP'S PRO-METABOLIC NUTRITION SYSTEM E-BOOK – $19.95
https://www.prometaboliclife.com/…/procomp-pro-metabolic-nutriti…
https://www.prometaboliclife.com/e-books
This e-Book explains ProComp's entire Pro-Metabolic nutrition and lifestyle system in detail.
Sample meal plans and other great information and ideas are included in this newly released E-book co-written by Cheryl Frost and Blair Loveday.
—————-
QUOTES BY ENDOCRINOLOGIST DR RAY PEAT.
http://www.functionalps.com/…/ray-peat-phd-quotes-relating…/
"Endotoxin (like intense physical activity) causes the estrogen concentration of the blood to rise."
"Estrogen levels are increased by stress. For example, a male runner's estrogen is often doubled after a race."
"Intense exercise damages cells in ways that cumulatively impair metabolism. There is clear evidence that glycolysis, producing lactic acid from glucose, has toxic effects, suppressing respiration and killing cells. Within five minutes, exercise lowers the activity of enzymes that oxidize glucose. Diabetes, Alzheimer's disease, and general aging involve increased lactic acid production and accumulated metabolic (mitochondrial) damage."
"Besides fasting, or chronic protein deficiency, the common causes of hypothyroidism are excessive stress or "aerobic" (i.e. anaerobic) exercise"
"In experiments, T3 production is stopped very quickly by even "sub-aerobic" exercise, probably because of the combination of a decrease of blood glucose and an increase in free fatty acids"