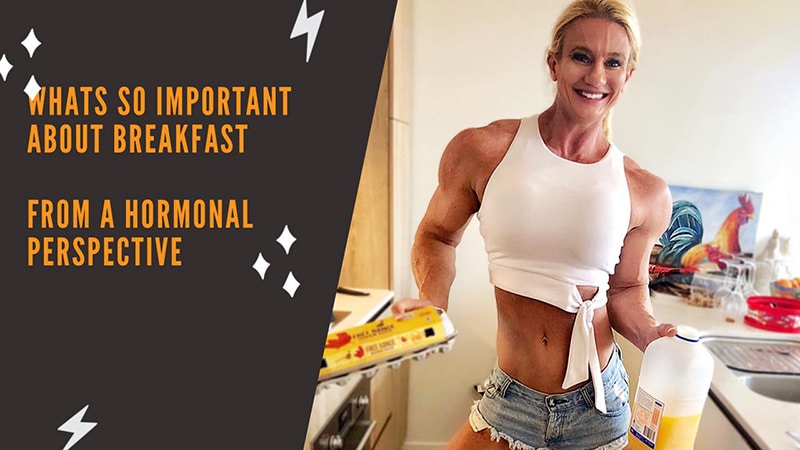 Find out the hormonal impact of skipping breakfast and read on as I also include my all personal favourite Pro-Metabolic, fat burning breakfasts!!!!
A simple but powerful take home point about today's blog and subject around breakfast. Upon rising from 7-9hrs of slumber……….breakfast means……."break the fast"!!!!
During sleep, levels of active thyroid hormone (T3) decrease and the stress hormones cortisol and adrenalin subsequently increases. This also causes blood sugar levels to drop and as the body enters a state of stress. When the body is stressed it slows down fat burning and becomes catabolic and breaks down muscle tissue for energy. This phenomenon essentially down-regulates metabolic rate!!!
WHAT HAPPENS IF BREAKFAST IS SKIPPED
Skipping breakfast exacerbates the state of reduced metabolic rate. It also creates a stressed state and the result is the slowing of metabolism. The reduction of metabolic rate increases stress hormones increases muscle wastage, reduces energy and has a detrimental effect on fat burning.
ALTERNATELY, WHAT HAPPENS WHEN YOU EAT BREAKFAST?
Eating the right food when waking effectively curbs the stress response and boosts metabolism. It also restores glycogen stores and balances blood sugar. Breakfast basically kicks starts the body and provides all of the energy to fire up all your body systems. This also includes the body's fat burning mechanisms.
WHAT DO I RECOMMEND EATING FOR BREAKFAST
Carbohydrates. These include the sugars in ripe tropical fruit, fruit juices and raw honey. Carbohydrates prevent the release of stress hormones and help to convert thyroid hormone to its usable form. The usable form of thyroid hormone boosts metabolic rate and replenishes glycogen stores for energy. Carbohydrates should always be balanced with good quality protein.
Protein. These include protein sources such as good quality dairy found in cheese and milk. Free range eggs, grass fed beef, hydrolysed gelatin or bone broth, white fish and shell fish are also excellent forms of protein.
Sodium. Sodium is a powerful anti-stress pro-metabolic nutrient.
MY THREE PERSONAL FAVOURITE PRO-METABOLIC FAT BURNING, STRESS REDUCING, BALANCED BREAKFASTS ARE:
Cheesy scrambled eggs on sour dough toast with a glass of fresh orange juice.
Pot-set Greek yoghurt with gelatin and fresh tropical fruit.
Eggnog fruit smoothie with low fat milk, coconut oil, gelatin, eggs and tropical fruit.
Symptoms of low blood sugar, high nocturnal stress hormone activity, less than optimal thyroid gland activity and low metabolism include:
Waking during the early hours of the morning with a racing mind.
A rapid heartbeat.
High levels of sweating due to adrenaline peaking.
Waking from sleep more than once to urinate. This is a physiological response where the body literally sheds water to conserve both salt and sugar.
Disturbed or broken sleep patterns.
A lack of appetite in the morning due to elevated levels of cortisol.
Many of today's fat loss meal plans do not provide adequate nutrition or balanced macronutrients at each and every meal. Whilst there is no doubting that immediate results may occur, the results come at the cost of stressing the body and downregulating metabolic rate. Not only do Pro-Metabolic meal plans provide fat loss and a change in body composition but they provide a healthy, balanced approach that will not destroy metabolic rate.
PROCOMP'S PRO-METABOLIC 12-WEEK BOOST AND SHRED MEAL PLAN.
Based on the research of a leading US endocrinologist, these comprehensive 12-week meal plans include unique combinations of foods to increase thyroid gland functioning and balance hormones. Each and every week, the 12-week meal plan program offers 2 different options for each meal. This means that you will have plenty of deliciously balanced fat burning breakfasts to enjoy with plenty of variety. For those looking to trim up quickly, ProComp's 6-week Fat Loss meal plan also includes 6-weeks o