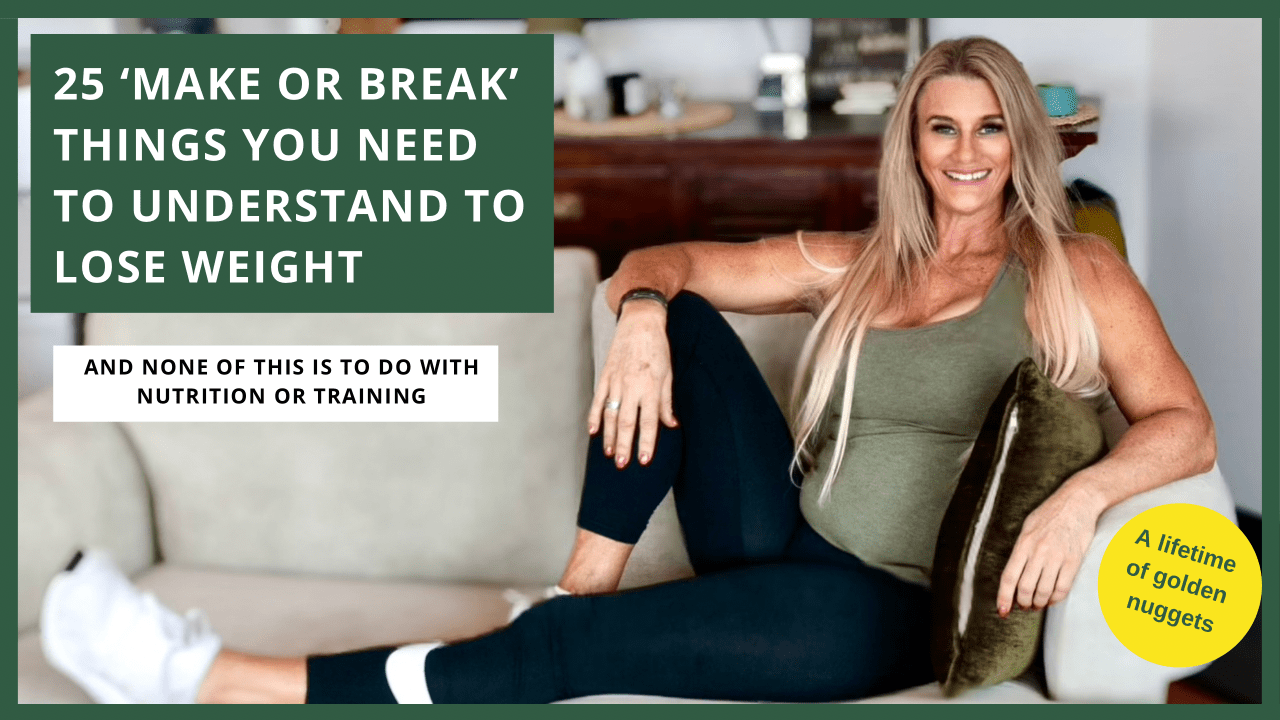 TODAY I SHARE A LIFETIME OF GOLDEN NUGGETS WITH YOU
and today none of this is about Pro-Metabolic Nutrition….
28 years as a Social worker (and part- time therapist),

24 years as a Personal Trainer,

20 years as a coach (from PRO athletes to the lady next door) ,

a life time as an athlete,

12 years as a gym-owner,

11 years as an international athlete,

8 years as a PRO Figure champion,

7 years as a metabolic health author, speaker and researcher,
 When it comes to dieting, weight loss, mindset, success, I have learnt, relearnt and Im still learning,
I have seen what works and what doesn't – I've seen genetically gifted people fail and average people achieve phenomenal success,
Whilst I keep updated with nutritional science, metabolic research and neuroscience, experience is still the greatest teacher
Success starts on the OUTSIDE starts on the INSIDE.
1.MANAGE YOUR THINKING AND YOUR SELF TALK
Our language and thoughts are more powerful than we realise.
WHAT WE FEEL AND WHAT WE DO, starts with the thoughts In our mind.     Thoughts always precede action.
So consciously give your mind the thoughts, the words and the pictures, to create the results you seek.
I do this by using affirmations – which are powerful, descriptive, positive statements that program my mind for the success I want.
Your mindset is a far greater controller of your success than your nutrition, your training or your genetics..
So ban negative thinking.
2. IT'S NEVER ABOUT MOTIVATION.   IT'S ABOUT COMMITMENT.
Motivation comes and motivation goes.    Motivation Is just an emotional state of being.   It certainly isn't going to stay with you all the time.   Sometimes it goes really quickly  If you only did what you needed to do when you were motivated you, like me, would get very little done at all.      Your results in everything you want to do is all about commitment and consistency.
3.IT'S WHAT YOU DO EVERYDAY THAT WILL DETERMINE YOUR RESULTS
Consistency is King.  Its your daily habits – not your every so often habits.   Consistently get enough sleep, eat well think positive thoughts, move your body, day in and day out.
4. YOU MUST KNOW YOUR WHY
Why do you want a leaner body?  What drives you?  Why is this important?  Everything becomes meaningless unless you have an appreciation of your why you want this?  and when things get tough – as they invariably always do, this is what you will fall back onto and your why will keep you going.  otherwise – why not!
5.  OUR BODIES DO NOT LIKE DISCOMFORT OR HARD.
So it is human nature to procrastinate, make excuses, justify, self-sabotage, hesitate, or believe it is all too difficult.   As soon as it stats to get hard, your body is going to want to stop.   Success is really repeating a few fundamentals day in and day our, whether you feel like it or not.   The reality is motivation will come and go and you quite simply will not feel like doing what you need to do day in and day out.   It is your job to push yourself.   No one else is going to.   The time is going to pass anyhow so do it – your future self will thank you.
6. WHAT YOU FOCUS ON, YOU BECOME
When I focus on success, I am successful.   If my fear of failure takes precedence in my mind, I fail.    When I focus on positive thoughts I see goodness all around me.  If I'm feeling down and negative, I draw negativity.   How I choose to think about me, who I am, what I am capable of achieving, what I visualise myself to be has amazing power to transform my life.      I can become my own solution.
Not only will I will attract all that I think I am, but I will attract what I feel and also what I fear.     Because I will become what I think about all day long.    Amazing thoughts
7. HAPPINESS STARTS INSIDE YOU – 
Until you understand the source of your happiness, it will forever evade you.   Whilst it is a noble pursuit to pursue your greatest self, getting that bikini body or fitting into your skinny jeans it will never make you truly happy (sure, we can get pleasures and satisfaction from this but not true lasting happiness).  We just think it will.
There have been so many times in my life that I have been utterly convinced that as soon as I lost some body fat I will wake feeling blissfully happy and content   Wrong.  So wrong
Ive learnt that true happiness can never come from the shape of my body, the weight on the scales, another person, the stuff I own, how I look, or what car I drive.  I fall into the trap time and time again of believing it does.   But the truth is, you have to create your own happiness and you have to be the person you want to be with.  You are only ever as happy as you choose to be.    You need to see the beauty in life around you, inside of you.
 Being happy is a way of life. It's about living each moment, it's about finding joy in your daily successes, it's about being as excited about your progress as you are about your end goal. It's not something you get when you cross something off your list or fit into your skinny clothes. Real happiness is a choice, irrespective of what size we are, or our body fat percentage.
8. THERE IS NEVER A PERFECT TIME
In the movie, 'Rocky III' Rocky Balboa is struggling with his training and tells his coach he will work harder 'tomorrow'.   His coach yells back at him "there is no tomorrow!"   Life really is just a series of todays.    If you want to be successful, to reach your goal then the time is today.   Don't wait until the stars are aligned, don't wait to lose a few kilos before joining the gym, don't wait for your new job, or until you move house or until after your exams to start eating clean.  There will never be a more perfect time than today.
9. DON'T GO WHERE ITS SLIPPERY
If you don't want to slip, then avoid slippery places, people or things.   For me its buffet breakfasts or a shopping centre when I'm hungry.   Don't set yourself up to fail.   If its slippery for you, then you're likely to slip
10. LISTEN TO YOUR BODY
I remember being so desperate to lose weight that I didn't care the cost to my health, emotional wellbeing or relationships.   I never paid attention when my body was stressed, my hormones out of kilter, my metabolism slowing down or if I was in a nutritional debt.   And before long my weight loss plateaued, I was exhausted, and I and had serious metabolic damage.
Rest when you are tired,
Stop if it hurts
Choose sleep over training if your body needs it
Eat when you are hungry – don't run on empty
Slow down if you are stressed
Nourish your body not deprive it
Enjoy natural sweet food when you crave it
Be kind to yourself and do something you love when your feeling blue
11.  EVERYTHING YOU DO IS A CHOICE
We constantly have choices.  Our entire life is direct result of the choices we have made.   Choose wisely.
You can choose to eat clean or choose to eat junk
You can choose to eat breakfast and eat regularly or choose to skip meals and cut corners
You can choose to exercise or choose to vege on the couch
You can choose positive thoughts and to encourage yourself
12. MAKE YOURSELF A NON-NEGOTIABLE PRIORITY.  Prioritise Self Care
This may sound harsh, but neglecting your own needs is actually similar to self harm.   If you are serious about success, health, happiness or your body, then make YOURSELF a priority.    Whatever matters to you most must be number one on your priority list.    We will always make time for the things we put first.    So put you first on your to do list.
Don't mistake self-care for selfishness.   Look after yourself is in fact the most selfless thing you can do
Self-care on a daily basis is one of the foundations for a happy life.
Neglecting your own needs, working excessive hours, not having down time or enough sleep, not preparing nourishing meals, not moving your body, is self-neglect    Please always remember to prioritise nourishing your body, your soul, your health and those you love.  Everything starts from here.
13. COMPARISON IS THE THIEF OF ALL JOY
So RUN YOUR OWN RACE.   Your goal is to be the best you can be.    There is always going to be someone prettier, faster, leaner, richer, with seemingly more….and as soon as you focus on them, what they have – you will lose focus of you and what you have.   There is nothing that can bring someones dreams smashing to the ground, like comparing your life or your body with someone else.  Just dont go there .
14. YOUR LIFE AND HOW YOU LIVE IT IS YOUR JOURNEY
So do what you do for you, do what makes YOU feel great
Not your parents, your partner, or your friends.  Its your journey.
15. NEVER FORGET WHAT REALLY MATTERS
What does really matter to you.    There were more times Ill ever admit that I let the pursuit of a 'perfect' body (pfft) ruin my health, my hormones, my energy, time with my family, and my love of life.    Having an awesome 6 pack means jack if your unhappy, tired and then are going to experience years of metabolic disaster
Your body is temporal, family are forever, health is wealth and your happiness is gold.
 16. YOUR HEALTH IS YOUR WEALTH
Your health and your greatest asset.
I see so many neglecting health in an attempt to get lean. Simply unless you value your health, you risk everything around you falling apart   Your greatest results will always come from your healthiest self.
17. DO OR DO NOT.  THERE IS NO TRY
I so often hear people tell me they are going to try to lose weight, try to repair metabolism, try to eat healthily, try to get up early to go to the gym, try to start writing a gratitude journal, try to be more positive and it goes on and on.
If this is something really important to you then don't settle for trying.    Trying provides an out.  And believe me when the struggle gets real, if there is a reason to take that out, there'll be no more tryin!
Commit to doing.   Be accountable to this commitment.    I constantly see as soon as someone COMMITS to a particular thing –  they do it. But if they set out to TRY to do it, invariably they fail.
Don't sit on the fence.   Don't take the middle road.   If you want it decide to DO it.  Chase those dreams.  Commit to making them happen.  Tell friends, tell the world.  Make it real.  Do it, don't just try.    Don't give excuses a foothold.  The magic is in the doing.   The commitment.  Deciding not to settle for "I hope it happens" or "I'm trying to get lean".    Set a date, set a deadline.  Make the commitment.   Trier's try till the cows come home.   Say yes, say I'm doing it!" and it will happen.
18. SKIP THE SHAME / GUILT GAME
Be prepared….everyone falls short and feels lousy about themselves at some point.   Perfection doesn't exist.  But it's the self-shaming, the guilt trips, the self-destructive thoughts, the personal self-afflicted punishment that will sabotage headspace and progress.
Instead of beating yourself up, LEARN from the experience. What can you learn about your struggles, your thinking, your temptations, your black holes and danger zones.  Embrace your setbacks as an opportunity to learn how you can do it better next time
Guilt and shame really are toxic self-imposed negative emotions that will never serve you.  They create negative energy, increase cortisol from stress and will ultimately impact metabolic rate, happiness, energy and progress.
Be kind to yourself.  Self-love, respect and self-awareness are the starting blocks to reaching your greatest potential.
19. NEVER STOP BEING THANKFUL
We all too often take our beautiful lives for granted.   So so many people could never ever dram of beign able to live like we do,    never forget how blessed we truly are.
Focus on what you have and who you are, rather than what you don't have or who you are not – and suddenly your world becomes a better place to live
20. UNDERSTAND WHAT MATTERS THE MOST
And never be at the mercy of that which matters least
21. BALANCE IS AT THE CENTRE OF ALL HAPPINESS AND SUCCESS
If you are stressed, rest.  If your child is sick – skip the workout and look after her.   Make time to play, enjoy food from all food groups.  balance balance balance.
22. "ITS NOT WHO YOU ARE THAT HOLDS YOU BACK, ITS WHO YOU THINK YOU ARE NOT" –
Denis Waitley – we all have so much more potential than we realise – but its not until we actually grasp some of our amazingness will it ever become possible
23. IT TAKES TIME – PATIENCE PETAL
There is a famous saying – it takes a lot of mining to find the gold.  The same is true to our bodies and our live.s    I know you want it now – me too.    We are human, we get impatient.   We all want it now.
The reality is success In anything takes time.   A long time.  A long long time.  And when you grasp that, you get it.  It's a long time of consistently, relentlessly doing the same thing, eating the same food, day in and day out. Uncompromising, determined, committed, focused.  I'm not here to make anyone think otherwise. There is no such thing as quick success.
It takes time to get lean.  It takes time to build muscle.  It takes time to increase metabolism, it can take time to balance hormones. Real lasting results take time.  It will happen
I get it.  I always want it to happen straight away too. But don't be delusional about how body success really happens.  It always will happen.  It just takes time.  Stay with it.   The time is gong to pass anyhow   So embrace the lifestyle   The lifestyle is actually your journey
24. YES – ITS ABOUT THE JOURNEY NOT THE DESTINATION
As cliché as that sounds.    I am reminded of something I once read "maybe it's all about the story, not the happy ending".    Your success is about what you do and who you are on a daily basis.  It's how you live your life.   It's how you think about myself.   It's being the best version of you every single day,    Perhaps the DOING is really more important than the OUTCOME?.   The real winner gets out there and has a go.  The real winner says yes to life.   The real winners step up when they feel like falling down.   The real winners don't give up.  The real winners learn from losses and hard times. Real winning, real success is about the journey, not the destination.
It's my day to day progress that is my success.   it's about celebrating every achievement no matter how small
It is always about the journey, it's your story that defines you.
The wins and losses
The highs and lows
The happy times and sad times,
The times you were afraid but found courage
The times you believed in yourself
The times you were weak and found strength
The times you got up instead of giving up
The times you were real with yourself and still held your head high
You've got this
Remember success on the outside starts on the inside
xx